Description
What are the benefits of using emu oil?
Emu oil has wonderful skin care benefits. It can be used as a moisturizer and as a skin nourishing treatment. Many are turning to pure emu oil for treating fine lines and wrinkles as well. Skin conditions tend to respond well to the anti-inflammatory properties which soothe the skin and help relieve inflammation. When Emu Oil was tested, it proved to be very hypo-allergenic and to have an extremely high purity level. Emu Oil was found to be a safe product with no known harmful side effects.
Emu Oil is a modern alternative method for helping relieve the discomfort of pain and inflammation caused by injured tissues and joints. Studies and research are ongoing. Modern research has documented that Emu Oil possesses numerous beneficial qualities. Laboratory experiments and analysis of Emu Oil both in Australia and in the U.S. have confirmed that Emu Oil has the ability to reduce inflammation of the joints. Emu Oil contains high levels of linolenic acid… a substance known to temporarily ease joint pain, and oleic acid… a substance that has a local anti-inflammatory effect on dermal tissues.
From each drop you will receive multiple benefits. Since it is a powerful transdermal agent that can penetrate deep into the skin its benefits don't just effect the surface layers. The healthy benefits of emu oil actually aid the body at all levels. For these reason and more you will find that emu oil can be effective for a wide range of applications. Below you will find a list of a few of emu oils more popular uses.
Anti-Aging Effect
Emu Oil is unsurpassed for its moisturizing properties. Studies found that dry aging skin increased in thickness by 2-3 times when treated with Emu Oil. Age spots and wrinkles diminished noticeably.
Stretch Marks & Scars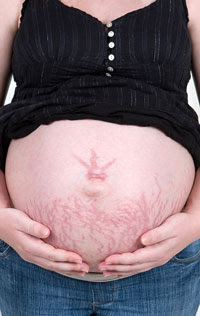 One of the newest uses of this remarkable oil is for the treatment of stretch marks and scars. Anecdotal evidence points to the effectiveness of emu oil for treating these damaged skin conditions. Whether stretch marks occur from pregnancy, weight gain or loss, or other causes, emu oil seems to be helping. The reduction of scar tissue formation from injuries and surgeries alike have also been reported. This natural omega rich oil has been used to minimize the development of stretch marks and scars, and to reduce the appearance of existing ones.
Read why this doctor recommends using our emu oil for treating episiotomy scarring.
Skin Superhero – Emu Oil!
We've finally found a healer that rescues skin from all the harsh effects of winter: emu oil! Not only does it hydrate and soothe redness, but the oil also has a laundry list of other benefits . It plumps fine lines, nourishes cuticles, encourages growth of the eyebrows and eyelashes and stimulates the scalp for thicker, healthier hair! What makes it different than other moisturizers? The oil (derived from the fat of the birds that resemble small ostriches) has similar amounts of skin-fortifying omega-3, 6 and 9 fatty acids as our skin. This allows it to penetrate into the lowest layers of the dermis, where new skin cells are generated. In additoin, Barry Sears, M.D., who specializes in hormonal research, believes that part of the emu oil's power lies in its high level of eicosanoids, hormone-like compounds that trigger the body to increase blood flow to the area where the oil is applied. Eicosanoids also soften the outer "shells" of individual cells, allowing more oxygen in and more toxins out for healthier skin overall. The proof: Studies reveal that when applied twice a day for 14 days, emu oil thickend skin by an average of 14 percent and increased moisture retention for a beautiful glow!
Why is emu oil good for stretch marks & scars?
Emu oil is a natural trans-dermal oil. It has the unique ability to penetrate deep into the skin tissue.
It is a powerful moisturizer. Emu oil helps replenish moisture to dry, damaged skin tissue allowing the skin to be more supple and pliable.
Emu oil is a natural source of the essential fatty acids (EFA's) Omega 3 and Omega 6. These are known to be vital to healthy skin. It is also a excellent source of Omega 9.
It is an anti-inflammatory agent. Inflammation can cause pain, itching, and redness which are common complaints from those suffering from stretch marks and scars.
How do you use emu oil for stretch marks & scars?
Using your hand, apply a small amount of emu oil onto the desired area and gently spread it around. Keep in mind that one drop of emu oil will cover an area about the size of the back of your hand, so judge the amount accordingly.
Apply more emu oil if needed to cover the entire area. Since emu oil penetrates the skin you do not need to rub it in all the way. It usually absorbs into the skin on its own within a few minutes. The skin should not feel oily when you are finished. If it does, you have probably used too much. Simply reduce the amount that you use next time.
Repeat several times a day or as needed.
Tip: Allow the emu oil to penetrate thoroughly before covering the area with clothing. This will reduce the chance of staining or discoloring of your favorite garments.
Arthritis
Emu Oil comforts stiff muscles and joints, and helps reduce the inflammation and swelling of arthritic joints. When used regularly, it acts much like an analgesic without the side effects.
Chronic Injuries – Massage
Muscle strains, sprains, injured ligaments and even heel spurs that are experienced by athletes and other sports enthusiasts are responding well to treatment with Emu Oil resulting in up to 50% faster healing. Many professional sports teams are now using Emu Oil for massages in their training rooms.
Cuts & Scrapes
Emu Oil relieves the pain and inflammation of cuts and scrapes without stinging or burning plus aids in the healing process.
Burns
Emu Oil has been found to be very effective on burns of all types including sunburn, 1st and 2nd degree burns, and radiation burns. It alleviates pain and dramatically reduces scarring and blistering.
Psoriasis & Eczema
Emu Oil acts like a therapeutic balm by moisturizing the skin and reducing the itching, redness, cracking, peeling and scaling associated with many stubborn skin conditions.
Hair Care
Emu Oil acts as a fortifying agent for limp dry hair, helps to eliminate split ends and restores a natural healthy shine to the hair. In some cases, there have even been reports of new hair growth.